What is the best folding bike on the market? – The Guardian
One of Britain's most successful Olympians, Jonathan Edwards still holds the world triple-jump record 12 years after retiring in 2003. In the years since, he has become a familiar presence as a sports commentator, and fell deeply in love with cycling – in step with the rest of the nation – at the 2008 Olympic games, where Britain's cyclists won 14 medals. "I remember being in the stadium in Beijing, commentating, and BBC1 cutting away from the athletics to go to the cycling, which was almost unheard of then," he says. "Maybe it did have an effect, subconsciously."
Cycling quickly became a passion for Edwards, and has provided a return to the rigours of athletic life. "My wife would say I'm obsessed , I would say I'm borderline obsessed," he says, "I like the training and the numbers, I like to measure my heart rate, watts, time; it takes me back to what I knew and loved as an athlete – that simplicity of training, goals to aim for. I like that, I like feeling fit."
Edwards has an enviable collection of road bikes, including one given to him by Sir Chris Hoy. In the city, however, he finds riding a standard bicycle a nuisance, especially in London, where he spends much of his time. As a newcomer to folding bikes, he assesses the six candidates – folding and unfolding each one again and again with suspicious incredulity. After spending the best part of a morning riding around on them, however, he seems positively invigorated. "There's a kind of ethereal, spiritual aspect to cycling," he says, "being out in the open, under your own steam. You're doing it yourself, you're not being driven in a bus – it gives you a very different perspective."
Specialist German model, aluminium, with SRAM dual-drive gears and disc brakes. Designed for longer distances.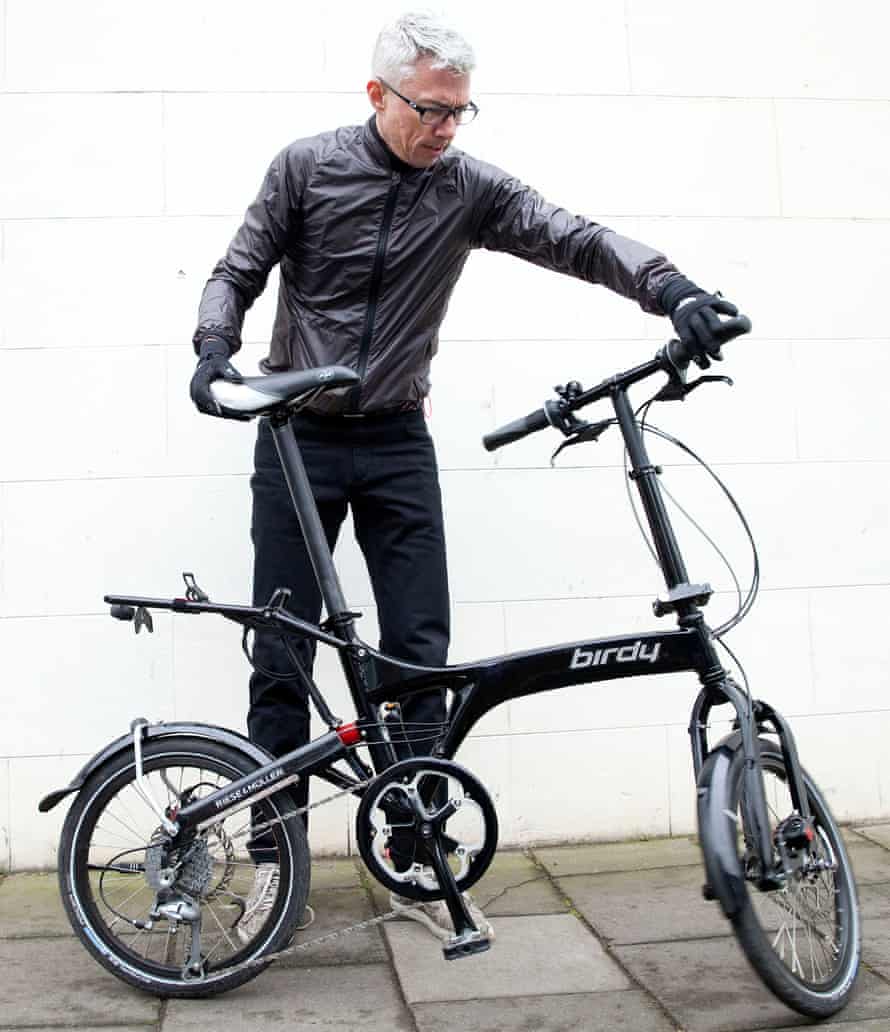 The Birdy Touring Disc. Photograph: Karen Robinson/Observer
"With a folder that you'll be packing and unpacking a lot; travelling around with it; getting knocks – the less that can go wrong the better. This has disc brakes and two sets of gears – 24-speed in all – which is impressive, and it rides quite nicely, but it's a high level of complexity, and it feels almost over-engineered. The rear derailleur, for instance, hangs very low to the ground, which seems vulnerable. It's expensive and it's not light, which isn't surprising considering how much they've thrown at it; for my liking there's just too much going on."
DAHON JIFO
9.2KG, RALEIGH.CO.UK, £609
Biggest brand internationally, US design. Single-speed, aluminium frame; numerous alternative models available.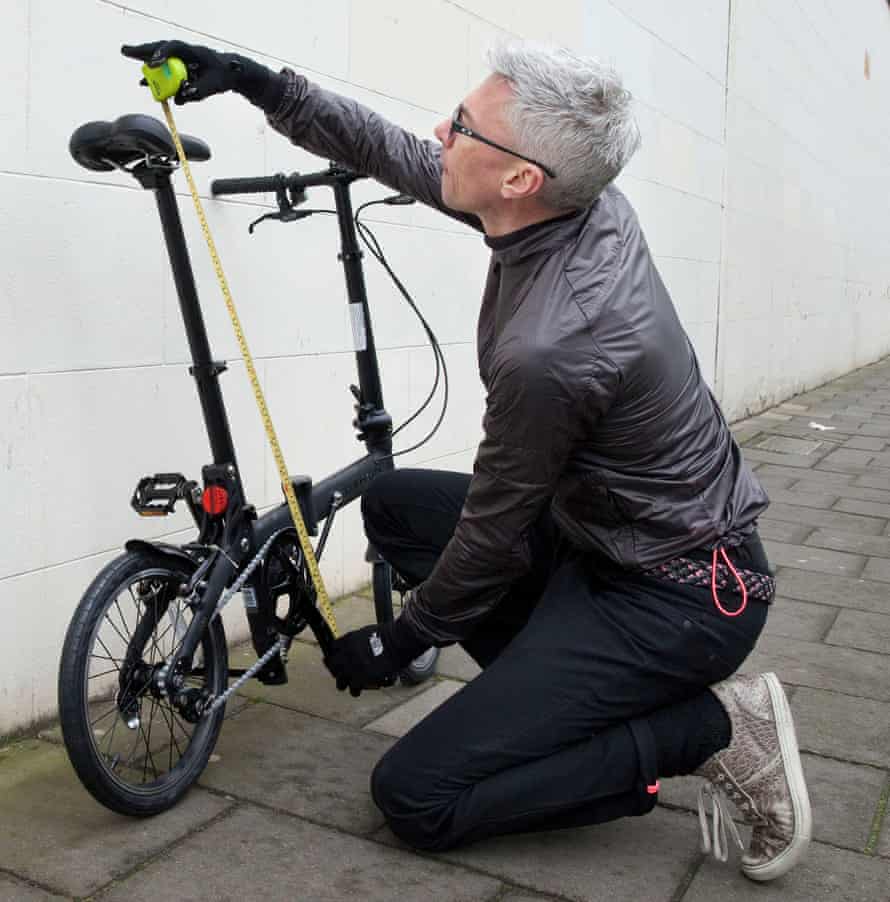 The Dahon Jifo. Photograph: Karen Robinson/Observer
"This is the one I wanted to ride the most, it looks great and it's almost unbelievably small. It's also very easy to put up and I like the way it folds; it's not that dissimilar to the Brompton in that the back wheel swings out under it, but it's easier to assemble and it's more sleek and modern. It doesn't have quite so nice a riding position as the Brompton – it feels a bit more perched, but the quick-release handlebars are a nice touch, and it wins on weight."
STRIDA SX
13kg, VELORUTION.COM, £599
(curved handlebars and Brooks saddle not standard)
Unusual A-frame design, aimed at commuters, with carbon drive and disc brakes.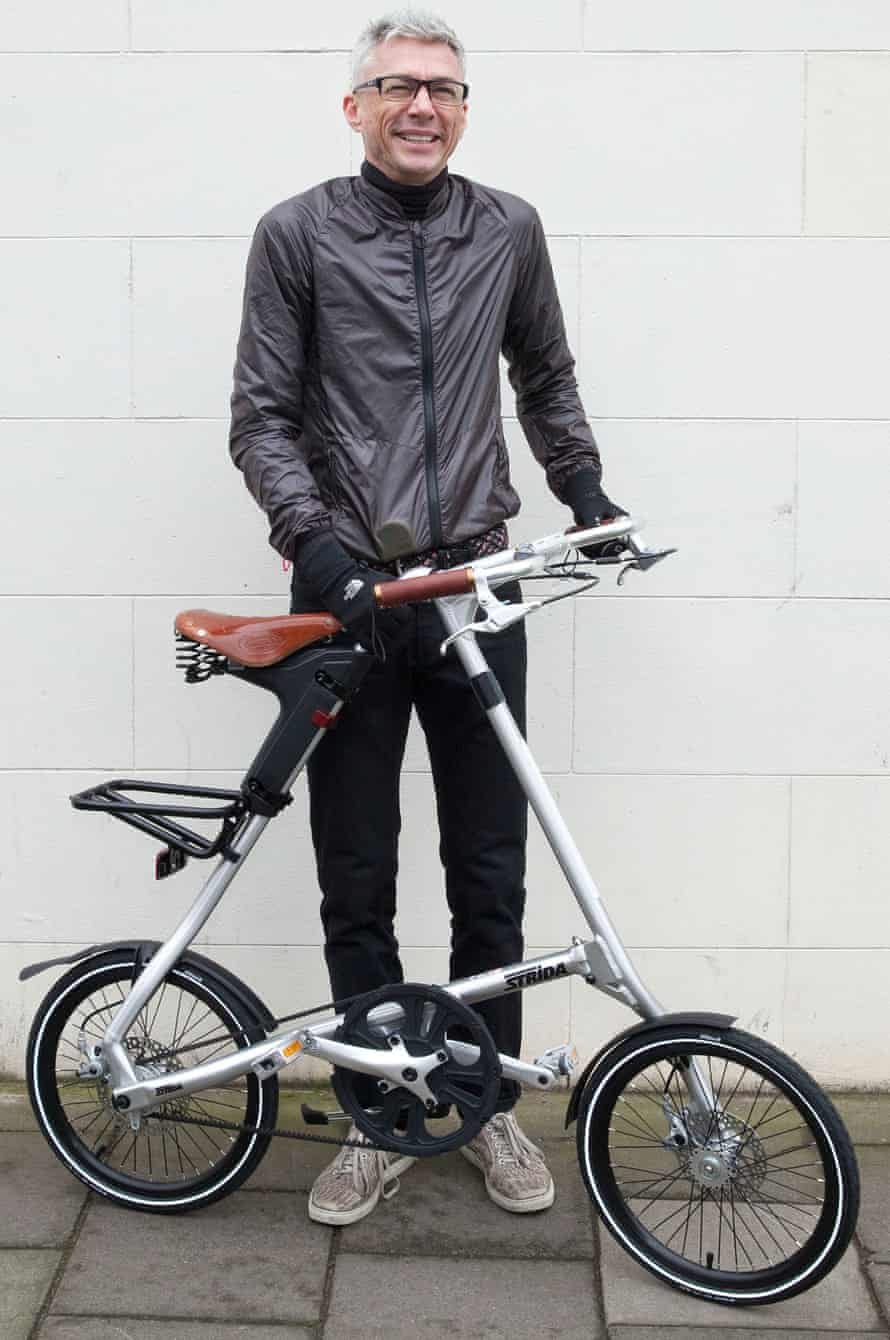 The Strida SX. Photograph: Karen Robinson/Observer
"This is a design piece. It looks lovely and it feels very well made – I would almost have expected it to be more expensive. But it's also very odd. The riding position is highly unusual and feels slightly unstable; you're very close to the handlebars and I was worried that, if I hit a bump, I might slip forward and impale my groin. It's like a penny-farthing without the big front wheel; in fact it's less of a folding bike and more of a collapsible bike, but it's the best-looking of the bunch and it's a clever design. Perhaps it's less about getting you from A to B and more about making a statement."
BICYCLES4U MILAN EXPLORER
13.5kg, BICYCLES4U.COM, £169
Inexpensive Chinese import, aluminium frame, three gears; propstand and bell thrown in.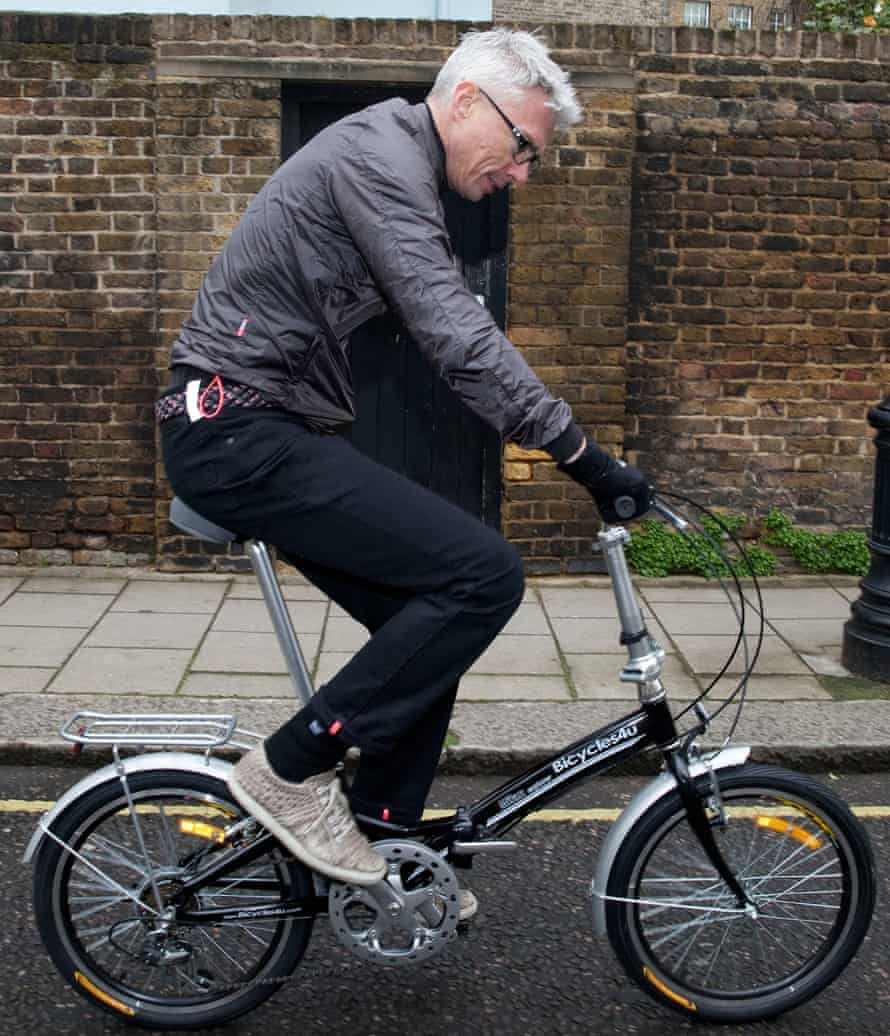 The Milan Explorer. Photograph: Karen Robinson/Observer
"It's heavy, it's awkward and it's easy to unfold in the sense that it sort of falls apart when you pick it up. All the bits and pieces did feel noticeably cheaper than everything else – the joints, the saddle, the tyres – which you would expect given how little it costs. Is it a false economy? You'd only know over time. But it's not lacking anything; it's got gears, folding pedals, a kickstand and once you're riding along, it's fine. You're not going to tackle huge hills on it, I wouldn't think. So if it's all you can afford, it's great."
Familiar, British-built steel model. Upgradeable frame. Compact when folded.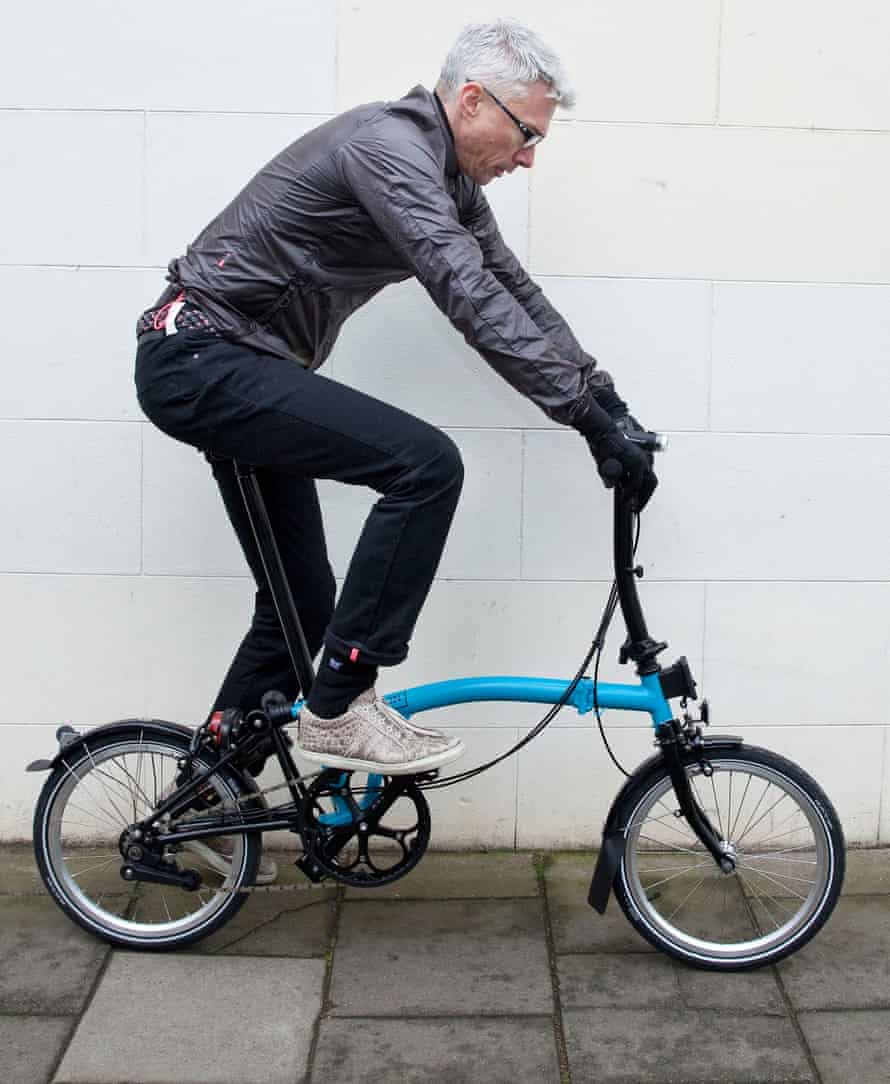 The Brompton S2L. Photograph: Karen Robinson/Observer
"The Brompton, in comparison with some others, was slightly more fiddly to put up, but it does pack down really nicely. It also had an excellent, streamlined riding position, although the seatpost was slightly short. Riding a folding bike, though, is a different activity to riding a road bike, so niggling over 2cm of seat-height is probably a bit ridiculous. With these bikes, you've really got to take pleasure in the folding itself, and for that I think the Brompton wins. It's so symmetrical, so tidy, and the others seem to have little bits that don't fit so neatly. That said, the little twiddly knobs feel a bit old-school; I preferred the fast-release joints on the Tern."
Recently-founded Taiwanese brand, Dahon rival; aluminium, laterally-folding frame.
The Tern Link D8. Photograph: Karen Robinson/Observer
"There's no beauty to the folded object – it just looks like a crumpled bike – but there is a beauty to how it unfolds: it's very, very simple and intuitive. Intuitive doesn't necessarily matter, because you'd learn how to use all of them over time, but it really is one, two, three and you're ready to go. The saddle was high enough – I'm nearly six foot – and I liked the riding position. It loses out slightly on bulk, but it's very functional, and remains high up in my affections."
This article contains affiliate links, which means we may earn a small commission if a reader clicks through and
makes a purchase. All our journalism is independent and is in no way influenced by any advertiser or commercial initiative.
By clicking on an affiliate link, you accept that third-party cookies will be set.
More information.