The best folding bikes – The Guardian
Tern Link C7
Price £266
Weight 12.4kg
The fold 15 seconds
Tern bikes are a newcomer to the world of folding – the firm was only set up three years ago, but it's quickly winning friends. Its models are called things like The Simple One, The Versatile One, The Hot Modder. The names refer to the nature of the various bikes but also read like a personality assessment of the future owner. This one is The Basic One. It's well made and durable, with some classy details – the chrome handles, the moulded grips and the off-centre quick release all have a quality feel to them. It has a seven-speed Shimano gear and sturdy aluminium fame, which means it will serve you well as a race-for-the-train job. As it's on the heavy side, you will start to feel it in your legs on a journey of more than several miles or if you live on a hill. But at this price, it's great value (evanscycles.com).
Dahon Jifo
Price £479
Weight 9.4kg
The fold 7 seconds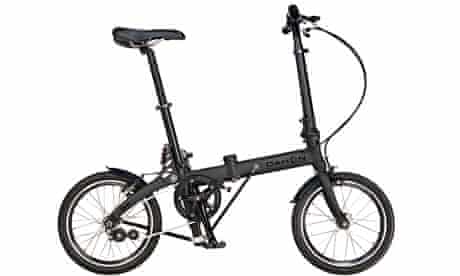 Dahon Jifo
The LA-based firm's pioneering solution to taking a rigid bike and sawing it in half so it can swivel into something you can carry in one hand has been credited with kick-starting the interest in folding bikes. Since 1982, Dahon has sold more than 2m bicycles and is now the undisputed world leader. All that expertise means the Jifo really does collapse in jiffy: it's just seven seconds from bike to bag. The bike is ultra-compact and very light, which makes it easy to carry once folded. It has a single gear, so it's only really suited for short hops around town, but the upright riding position combined with the tiny 16in wheels make it incredibly responsive to ride. A touch on the pedals and you are flying away from the lights. And don't let its small size put you off – it's as sturdy as a Shetland pony and will take riders up to 105kg in weight (wiggle.co.uk).
Brompton S2L
Price £890
Weight 10.9kg
The fold 15 seconds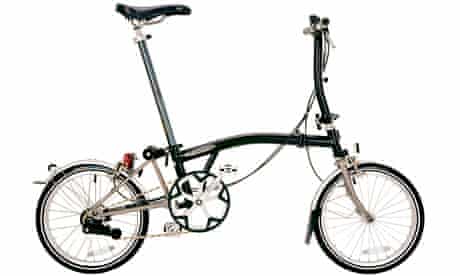 Brompton S2L
In the opening scene of W1A, Ian Fletcher (brilliantly played by Hugh Bonneville) fresh from delivering the Olympics in Twenty Twelve, is still struggling to fold his Brompton. The bike is now a metaphor for the new nightmare he faces as the BBC's head of values. A YouTube tutorial would have put him right – with the bike if not the Beeb. To ride, the Brompton is an instant hit. Light, agile and strangely addictive, the bike's upright position, long steering stem and super-high seat column means that as you hover above the tiny wheels you feel like a trick cyclist pulling off a clever manoeuvre. Once you have cracked the technique, it folds easily and more neatly than any other bike. In fact the folding becomes a pleasure in itself. Brompton is Britain's largest bike builder. It's as British as the BBC (brompton.com).
Airnimal Chameleon
Price £1,999
Weight 10kg
The fold 45 seconds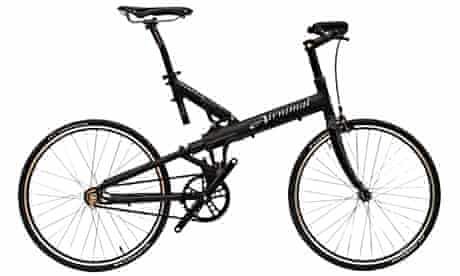 Airnimal Chameleon
The tiny wheels and shopper-style handlebars of the folding bike mean you have to ride upright, which more or less destroys any sense of aerodynamics. But Airnimal likes to think differently. It makes three models: the all-round Joey, the all-terrain Rhino and this one, the Chameleon. It is an extraordinary hybrid of race styling and folding technology. It has traditional drop handlebars, a 20-speed Shimano 105 groupset and carbon forks. It has skinny tyres and a pain-in-the-ass saddle. It weighs very little and you can ride it like an all-out race bike. Yet it will still fold neatly into the boot of your car. It's expensive and is aimed at serious cyclists. But if you travel for work and long to stretch your legs on unfamiliar roads after endless meetings, this would be an inspired solution (airnimal.eu).
Mando Footloose
Price £3,349
Weight 21.7kg
The fold 3 seconds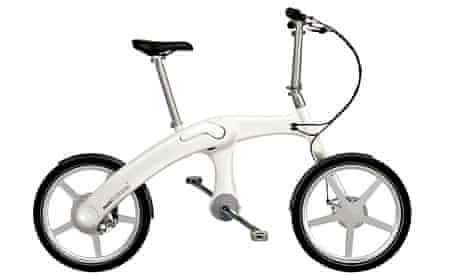 Mando Footloose
The Mando Footloose is the world's first chainless electric folding bike. It may also be the world's only chainless electric folding bike. It looks like a cross between an exercise bike and an exhibit from an art gallery. There are no gears and there is virtually no resistance on the pedals, as if you are permanently cycling downhill. Pedalling doesn't drive the bike forward – it replenishes a battery through a tiny alternator which then generates electricity to power the automatically geared motor which is hidden inside the sculpted aluminium frame. It takes a while to get used to riding it – and it will take longer to get used to the baffled looks of passersby. Once you do, you'll be happy to sit back and let the bike do the work – it'll cruise at 15mph. But it's as heavy as a bag of golf clubs, so it'll take a strong back to heft it into the boot (justebikes.co.uk).
Ninety years of Harley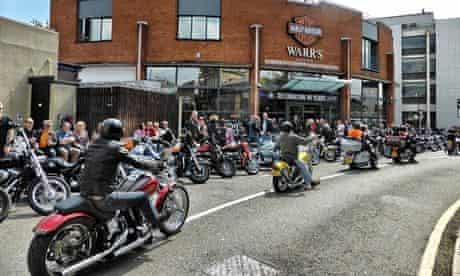 Happy birthday Harley: 90 years old.
In case you forgot about the other type of two-wheeler… Europe's oldest and best-known Harley-Davidson dealership has just celebrated its 90th anniversary. It threw open the doors of its iconic King's Road showroom to passionate riders, vintage bike fans and customisation enthusiasts from across the country.
In 1924 FJ Warr opened his motor bicycle repair shop on London's King's Road. That same year he became an agent for the Harley-Davidson Motor Co of Milwaukee, USA, and Warr's Harley-Davidson was born. At that time the flagship of the Harley range was the Silent Gray Fellow, which would have cost a princely £85. Now, with a collection worth more than £2m, the Warr's Museum displays the largest number of historic Harleys this side of America. From the Second World War WL models which inspired the Harley used in 2011 movie Captain America to the Model K that shot to fame in the 50s when a young Elvis Presley posed for the May 1956 cover of The Enthusiast magazine, and later for his Return of The Rocker album cover, they are all here. For the first time Warr's has also revealed some of the unique and innovative custom bikes that have been designed and built by their in-house experts, Kings Road Customs. For more information about Warr's Harley-Davidson and the 90th anniversary celebrations, visit warrs.com.
Capital cars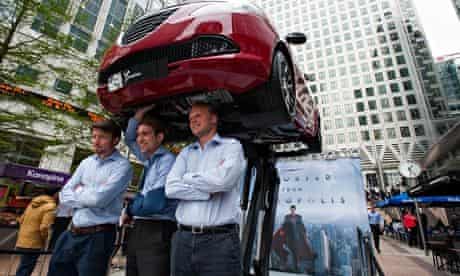 Under the bonnet: get close to some truly remarkable cars at this week's London Motorexpo. Photograph: Ben Broomfield
London Motorexpo, the UK's largest free car show takes place this week (9-15 June) with the seven-day spectacular showcasing some of the most iconic car brands from around the world. Located at One Canada Square and Canada Square Park in Canary Wharf, London's prestigious business and leisure district will be transformed into an indoor and outdoor exhibition space, with organisers expecting more than 400,000 visitors. Motorexpo conveniently provides all those working in, living near and visiting Canary Wharf, plus car enthusiasts from further afield, a chance to see, touch and in many cases, test drive the cars on display. Now in its 19th year, the 2014 line-up includes a mouthwatering collection of high-end cars: the Porsche Cayman GTS, Lotus Evora Sports Racer, McLarens 650s and Aston Martin Vanquish Volante will all be on show as well as Bentley's new Continental GTV8 S. If that is not enough, there will be two F1 cars as well as electric cars and bikes. There's even the launch of the Luxury Mobile Office Company, a novel idea which makes it possible to work in style and comfort when travelling by car. Motorexpo is open daily between 10am and 6pm (11am to 5pm on Sunday 15 June) and it's free to enter. For more details, visit motorexpo.com.
Email Martin at martin.love@observer.co.uk or follow him on Twitter @MartinLove166