Road Tripping with Folding Bikes: A Summer Adventure Diary – Momentum Mag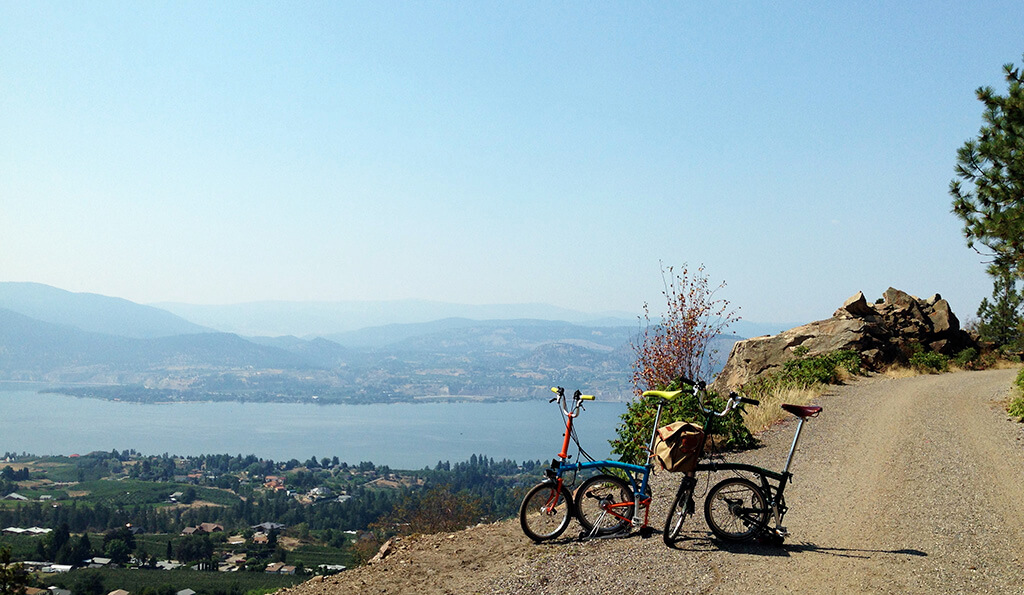 Summer road trips are the best!
Last summer my boyfriend and I planned an epic, two-week 1864 mile (3,000 kilometer) circular road trip (by car) that would take us from Vancouver through some of the most beautiful scenery of BC and the Alberta Rocky Mountains (The Rockies), a place I have wanted to return to since I had been there with my family when I was a teenager. But this road trip was different because I experienced a lot of it by bike.
The first mission was to figure out how we were going to take bikes on our trip. We knew we wanted to roll in an '89 Volkswagen Golf Cabriolet convertible but had no idea that this is one of the only cars that a bike rack doesn't fit on (because of the convertible) and has no hitch to attach a hitch rack. My plans of seeing the Naramata Valley by bicycle were not going to be spoiled by this major detail, so we borrowed two Brompton folding bikes, somehow managed to fit both bikes in the small trunk of the car, piled all of our camping gear around the bikes and in the back seat, and we were on our way.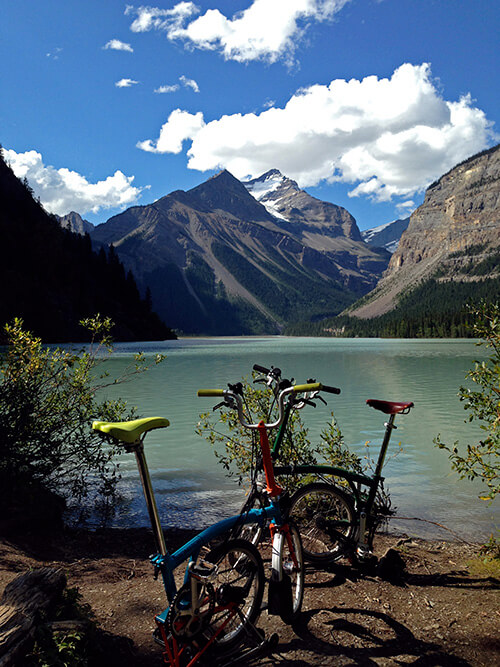 We were relieved and amazed at how small the Bromptons became when folded! These little folders were an amazing addition to the trip and ended up being the ideal way to explore the parks and campsites along the way.
Night 1
We set up camp along the Thompson River near Wells Gray Provincial Park and got to know the bikes. After practicing a few times to get the fold and unfold just right, we explored the park by bicycle. I brought these bikes to go on longer day trips and adventures but just bombing around the park and campsite was so much fun!
Day 2
We continued our drive along the Yellowhead Highway 5 and turned east towards Mount Robson Provincial Park, home to the highest peak in the Canadian Rockies. We were lucky to pass through on a clear day. We stopped at the park and took the Bromptons down a 3 mile (5 kilometer) dirt path to the epic, turquoise Kinney Lake. I was pleasantly surprised at how well the little wheels on the folding bikes faired on a dirt path. Several people commented as we rode by "I wish we were riding bikes instead of walking".
We explored Jasper National Park – gorgeous! But later that evening I realized I had lost our cooler cap back in the town. Thinking I knew where we left it, we hopped on our Bromptons for the 3 mile (5 kilometer) dusty ride into town instead of driving and not only did we find the cooler cap but we stumbled upon a herd of 11 caribou that didn't get surprised or run away because we were able to approach them silently on two wheels each. What a treat!
Day 4
We drove the stunning, glacier-lined Icefields Parkway between Jasper and Lake Louise. There's no cell phone reception: just glaciers, mountains, waterfalls, and the open road.
Days 5 & 6
We left the chilly Rockies behind and made our way through the remote West Kootenays. Again we embrace being free of cell phone reception, stopping at hot springs and lakes and soaking in the remote beauty of our new terrain.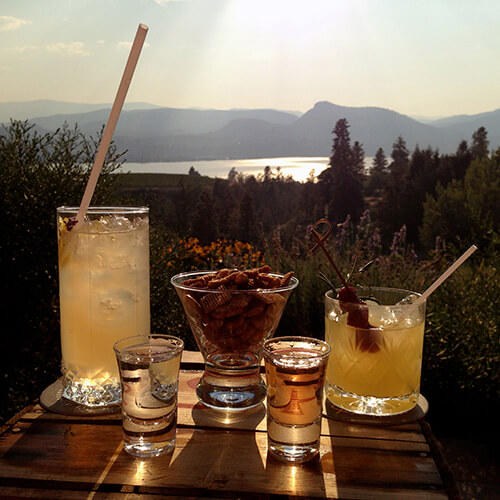 Days 7 & 8
We made ourselves comfortable for a few nights at the Kokanee Creek Provincial Park campground on Kootenay Lake. We parked the car for a couple of days to give ourselves a break from driving. Instead, we used our amazing folders to visit friends along the lake and off-road down narrow dirt paths only accessible by foot or by bicycle. We felt like we had uncovered a secret that I wish I had uncovered sooner; I want to take a bicycle with me on every road trip from now on.
Days 9 & 10
We let our tent rest in the car for a few nights and slept at an Airbnb on a vineyard in the Naramata Valley. It was my first trip to Naramata and I was instantly smitten. There are over 40 wineries within a 12 mile (20 kilometer) stretch of road and a beautiful lake at the bottom that became our refuge from the 104 degrees Fahrenheit (40 Celsius) heat. The main reason we wanted to take bikes on our trip was to go wine touring by bike. Well, we made it to two wineries before realizing that this was not going to work. Not only did I want to take back souvenir bottles, but also most of the wineries were at the top of steep hills and in the heat it was just too much! But before we traded the bikes in for the car, we hiked the bikes up a crazy, steep hill to enjoy the stunning view of the Kettle Valley Rail Trail, a 15 mile (24 kilometer) trail that winds its way through the Okanagan-Boundary region that has been resurfaced for multi-purpose use.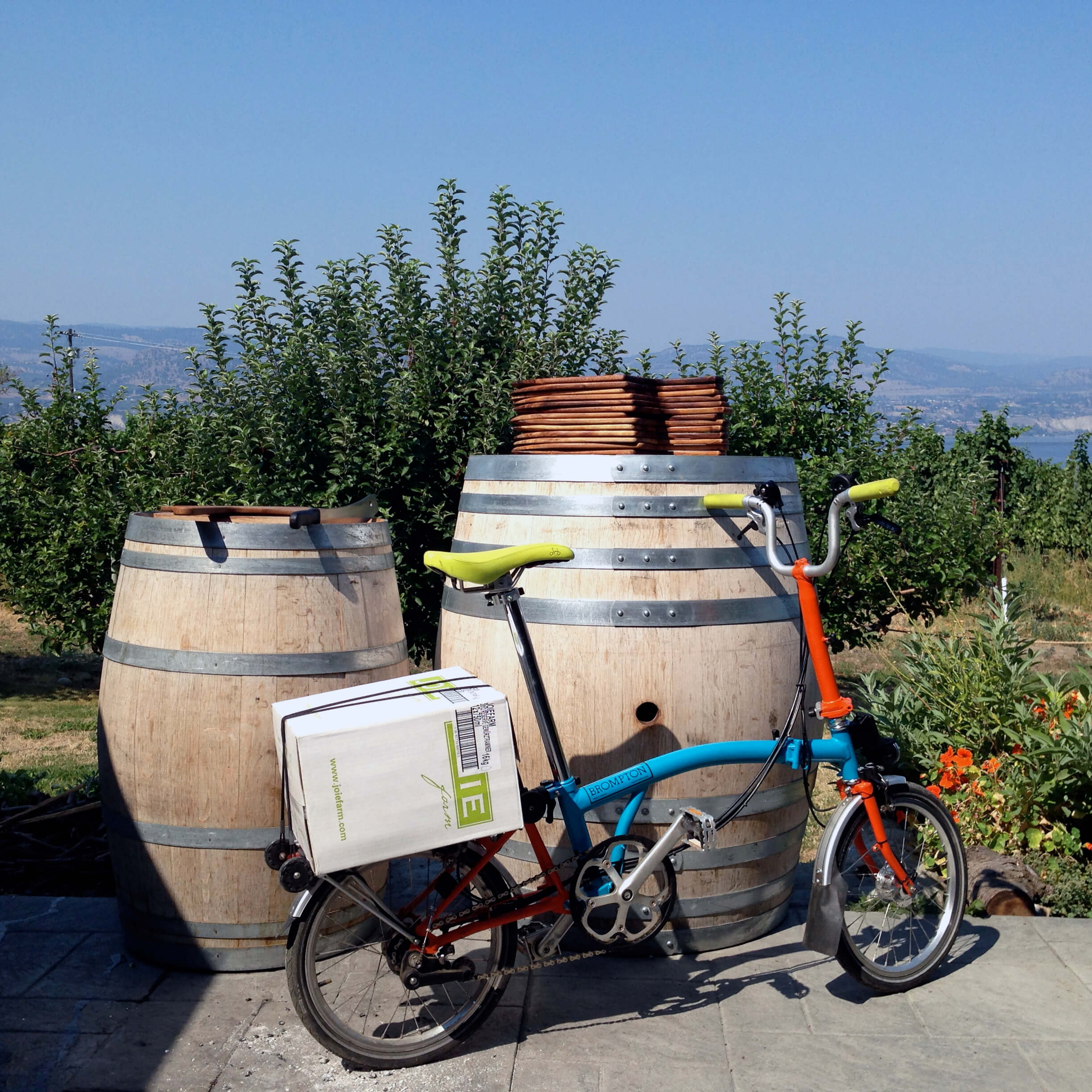 Days 11 & 12
We left the blazing heat of the Okanagan Valley to hit the Duffey Lake Road (a stunning mountainous drive from the remote town of Lillooet to Pemberton) and made our way to one of our final stops, Mount Currie and the Pemberton Valley. We met up with friends for the final adventure, the Pemberton Slow Food Cycle Sunday. We unpacked our Bromptons and embarked on a self-guided, cycle tour of the gorgeous and gloriously flat Pemberton Valley, where we joined another 4,000 people (many of them families) to sample the local and fresh farm flavors.
Days 13 & 14
We stopped in Whistler and used the Bromptons for the final time to explore the paved Valley Bike Trail of the Whistler Valley. We were amazed at the infrastructure that Whistler has built to accommodate recreational biking and we vowed to return with more time to explore. And then we folded the bikes one last time and headed home.
This was my first road trip with bicycles, but it definitely won't be my last. What surprised me the most about traveling with a bike was not the fun I had on the planned bike adventures, like the Slow Food Cycle, but the unexpected: riding carefree around campgrounds, through parks, and off the beaten path. With any great adventure, it's always the unexpected that proves to be the most enjoyable; it was made a thousand times better thanks to our bicycles.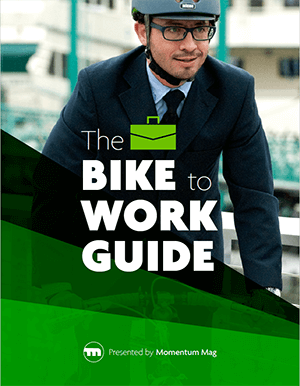 Get your FREE copy of our new guide: Momentum Mag's Bike to Work Guide
Bike commuting is practical, liberating, and a great way to integrate fresh air and exercise into your daily routine. In this guide we outline the major benefits of bike commuting, go over the equipment you'll want, provide solutions to any concerns, and offer advice on route planning and other practicalities.
Get My FREE Guide
Please select your country and provide a valid email address
This is a sponsored guide. Your email address may be shared with Nutcase. Please read our Privacy Policy.
Thank you for your submission. Please check your inbox to download the guide!