Ducati Urban-E electric folding bike – FAD magazine
We love the Ducati Urban-E, it uses a special aluminium frame with an easy-folding locking system, created by Centro Stile Ducati along with designers from Italdesign's design division. The handlebar incorporates a fully integrated LED display, which allows the rider to check charge levels and turn the LED lights on or off. It uses a 378kW battery that is integrated into the frame and has been designed to look like a motorcycle's fuel tank. The Urban-E is scheduled to be released in October this year.
@ducatiurbanemobilty
Categories
Tags
Author
Mark Westall
Mark Westall is the Founder and Editor of FAD magazine Founder and co-publisher of Art of Conversation and founder of the platform @worldoffad
State Bicycle Co. are honoring Biggie Smalls' Lasting Legacy with the official collection of bikes, apparel, and accessories.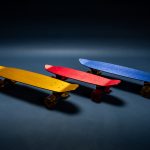 Banzai have set out with a vision of capturing the spirits of sophisticated design enthusiasts around the world by celebrating the brand's heritage and releasing a limited edition collectors rerun of the brand's most original shapes
Rad Power Bikes has unveiled the newest iteration of its versatile RadWagon® electric cargo bike. Fully redesigned from the ground up, the RadWagon 4 offers enhanced strength, stability, and versatility, setting a new standard for what can be expected in an electric cargo bike.
poimo is an inflatable electric scooter developed by Mercari R4D in collaboration with Kawahara and Niiyama labs from the University of Tokyo.