A review of the Dahon HIT Pandemic Special folding bike – Momentum Mag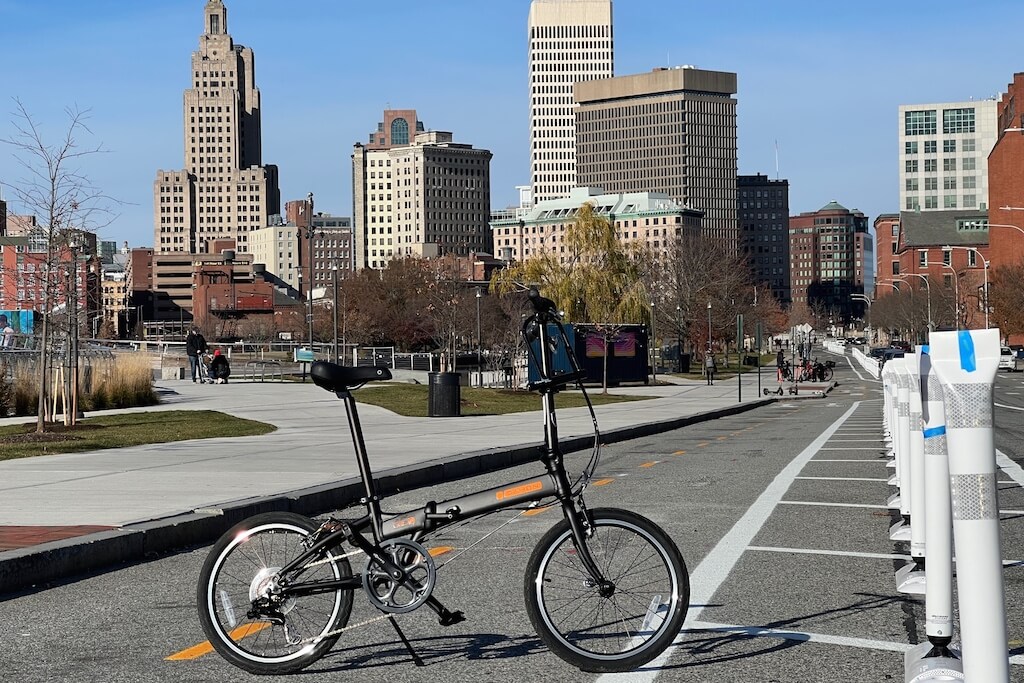 The Dahon HIT Pandemic Special in Providence
For this review, we sent the Dahon HIT folding bike to Ron Johnson in Toronto, Canada, and Robert Isenberg in Providence, Rhode Island for separate reviews. Here are the results:
Tell Your Friends
Robert Isenberg (RI): True to its name, Dahon released the HIT Pandemic Special in the middle of the COVID-19 health crisis, a direct response to the "Bicycle Boom" of the past two years. The HIT is perfect for riders new to folding bikes: sturdy and light, with just enough gears to tame some tough topography. Most of all, it's an affordable addition to the Dahon catalog.
Ron Johnson (RJ): What I liked about the Dahon HIT is the ease of use began as soon as it, ahem, hit the doorstep. The box was expertly packed and getting from the living room to the streets took minutes, some scissors to cut a few packing materials away, raising the handlebars and seat, attaching a pedal, and sliding the two halves in place and locking it down was all it took. With just one fold and some easy adjustments, this bike is commute-ready, which is key for us in the big city.
Wish List
RI: Not long ago, I would have purchased the HIT in a heartbeat. Dahon helped pioneer the folding bike market in the 1980s and continues to dominate. The Dahon Mariner D8 has topped "best folding bike" lists across the Internet, and the HIT boasts a very similar design, yet for a fraction of the price. There's only one reason I wouldn't consider buying the HIT now: I already own a Dahon Curl, a Brompton-like model that I ride pretty much everywhere — and have even taken on tours.
RJ: Dahon's approachable price point and no-muss, no-fuss design, makes the HIT very appealing. It's right in a sweet spot that would allow those who have regular rides to potentially add a folding bike to the quiver. Or, it would make a great first bike for those looking to get in on the boom and see what all the fuss is about. Trust us, it's worth it.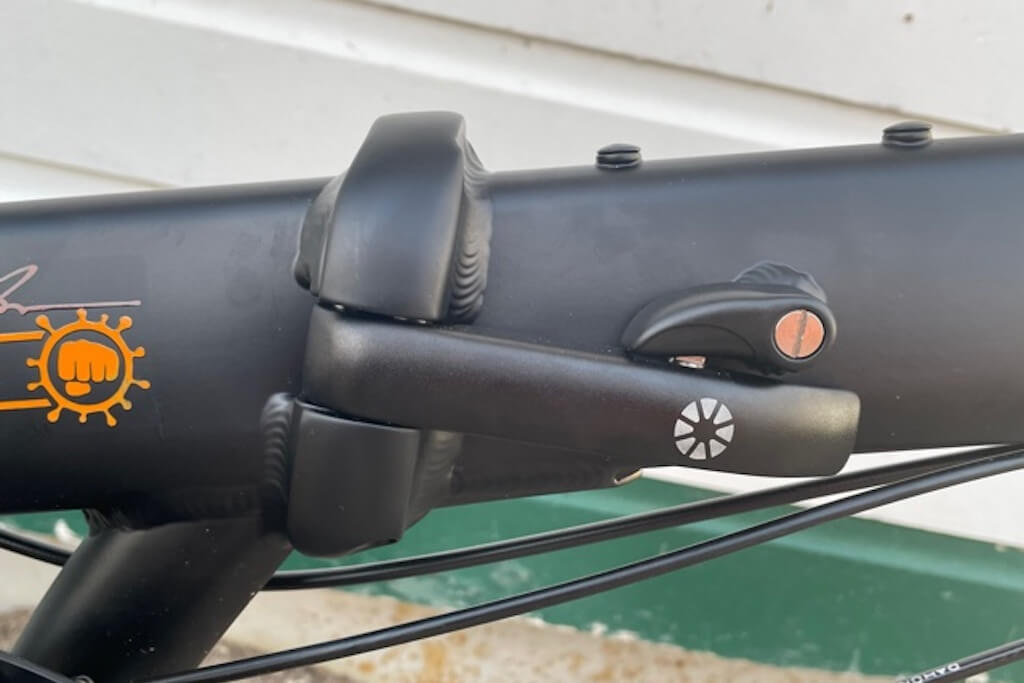 One simple lever and the HIT folds into a tidy package
Ideal User
RI: Most people insist that folding bikes are designed for urban commutes, full stop. Yes, folding bikes fit comfortably in small apartments and maneuver deftly through traffic. You can haul a folded HIT onto a subway car without bumping other passengers. The HIT also saves trunk space in a car and makes great company on camping trips. But I'd argue that the HIT has far more potential than little jaunts around town: I've taken similar folders with 20-inch wheels on satisfying, multi-day trips. Stick to the pavement, bring spares, and you can take the HIT pretty far.
RJ: The thing I love about folding bikes is the portability and ease of use. But, with some, the investment is somewhat severe, especially getting into e-bikes that fold. Living in a city like Toronto where theft is so prevalent, investing in an e-bike for commuting is terrifying. In addition, that regular wear-and-tear is tough on a bicycle. Having something well-made, and versatile, but won't break the bank makes the HIT great for city commuters.
I also like that it weighs just over 27 pounds. That's key when considering another great use of a folding bike such as the Dahon Hit, and that's traveling. With its compact size, the Hit can easily fit in a trunk and at such a lightweight, it is manageable for most people. Just pack the Hit, make your way to a charming small crafty town, or riverside trail, and away you go.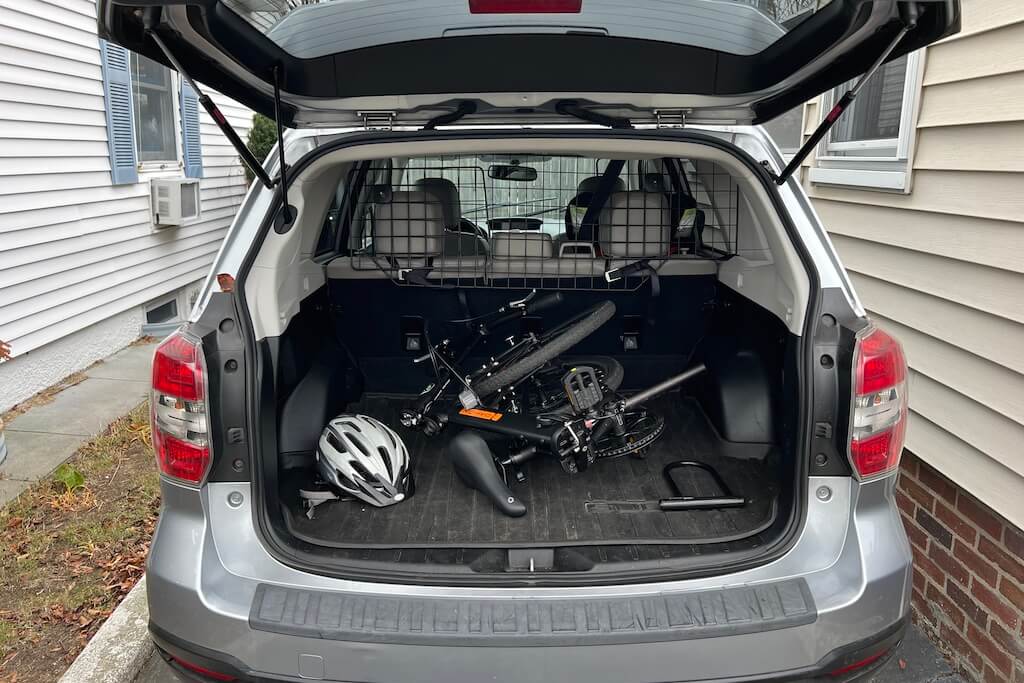 Its compact design makes it a great option for travel
Summary
RI: By nature, I have a fondness for folding bikes and Dahon in particular. The company intended the HIT to be an economical option, which all depends on your definition of "economical." You can find similar models with 20-inch wheels online, or even at a local yard sale, and they may cost far less than $599US. But Dahon is a trusted name with quality products, and my experience with customer service has been spot-on. Plus there's a 10-year warranty, which is always nice.
I rode the HIT for a couple of weeks around Providence, a post-industrial city with a good share of frost heaves and potholes. The petite wheels and 1.75-inch-wide tires are handy for weaving down narrow streets, where parked cars and two-way traffic battle for elbow room. You definitely "feel the road," but a little vibration has never bothered me, and the HIT comes with a plush saddle.
Folding the HIT is quick and easy, which I can't say for my Dahon Curl. As folding bikes become more compact, they often require several steps to break down; this procedure relies on hard-to-replace specialty parts and can confuse a new rider. Not so for the HIT: flip a switch on the downtube, and the hinge turns easily. Depress the seat post, swing down the handlebars, and voila! Your HIT is half its size.
In short, the HIT is exactly what I expected, right out of the box: simple, trusty, and well made. The unit took about five minutes to put together, and although you should probably tune-up your new HIT with a pro mechanic, basic assembly barely required a hex key. I took the bike across a range of streets, from smooth blacktop in manicured neighborhoods to battered asphalt in industrial zones, and the HIT handled nicely. I pedaled the HIT over some dirt paths in a local park, and the good times still rolled.
My hesitations are almost too superficial to name, especially in light of the HIT's "budget" status. If you've ridden fancier folding bikes, you may notice that the pedals sans a quick-release mechanism don't flip up as easily as some so it's a bit harder to lay the folded bike flat. Some welding marks are visible on the frame. There's no luggage rack or other gewgaws, which some folders integrate into their designs.
Here is my pettiest qualm: The easiest gear (the so-called "granny" gear) didn't seem very grandmotherly to me. Six gears is an impressive ratio for any folding bike, and most cities are flat enough for this not to matter. But Providence has some terrain, and when I attempted steeper hills, the resistance surprised me.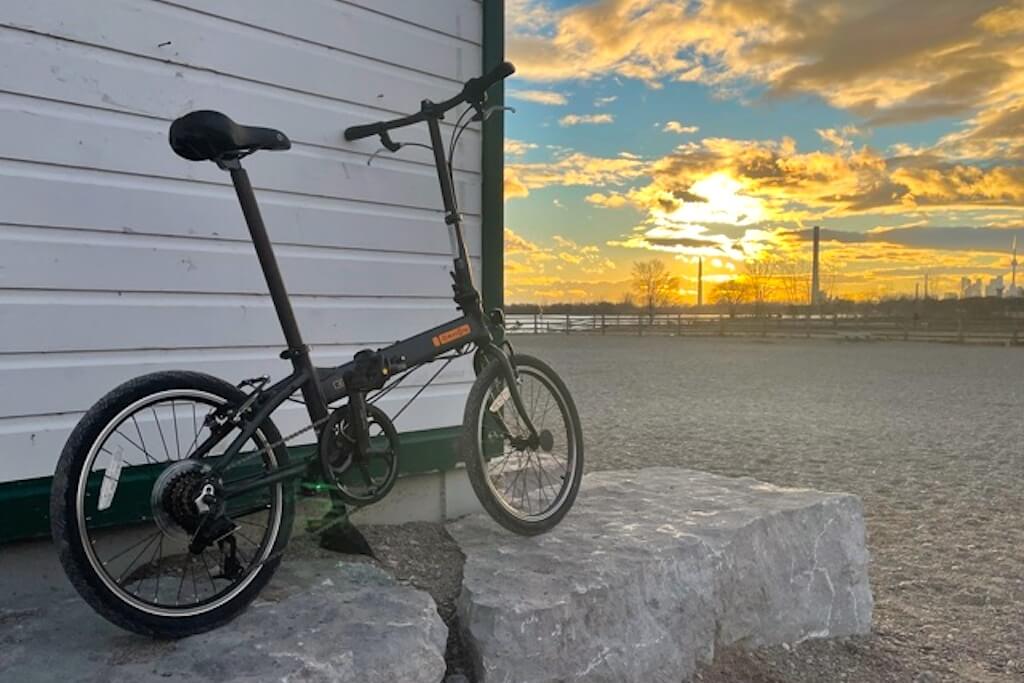 RJ: Toronto is a challenging city for bicycles. There is varied terrain, but the issues tend to be related to potholes, the dreaded streetcar tracks, and, slush and snow during the winter. Although it's still early, I did manage to pedal the Hit in some snow, and it responded favorably. The small wheels and tires are bulky enough to handle road hazards including a hole here and there. But the good thing about folding bikes is the riding position is upright and the steering is nimble so it is much easier to avoid them altogether.
Folding bikes always surprise me for their ease of use and speed. It's fun to cruise. The small wheels aren't a bother, and I do like the upright riding position created by the Dahon geometry. This is a team of engineers that have been in this business for a long time, and although this is an affordable version of some of their bikes, it is nice to know the Hit comes from a long line of well-crafted folding bicycles.
The saddle was comfortable enough. The six gears did the trick. The bike is bolstered with Deltec cables on the front triangle and seat tube. And it is built to handle riders up to 300 pounds.
I will say, though, that the makeup of the bicycle suggests more of a commuter or short-distance role around the nabe. And, for that, it is ideal. Let's face it, we have a new enemy variant on the horizon, and people will begin to feel much safer outside once again. This bicycle was created for just this situation and it does the trick.
I would be more than happy to spin about town on the Dahon Hit right now.