A review of the Brompton Electric C-Line folding bike – Momentum Mag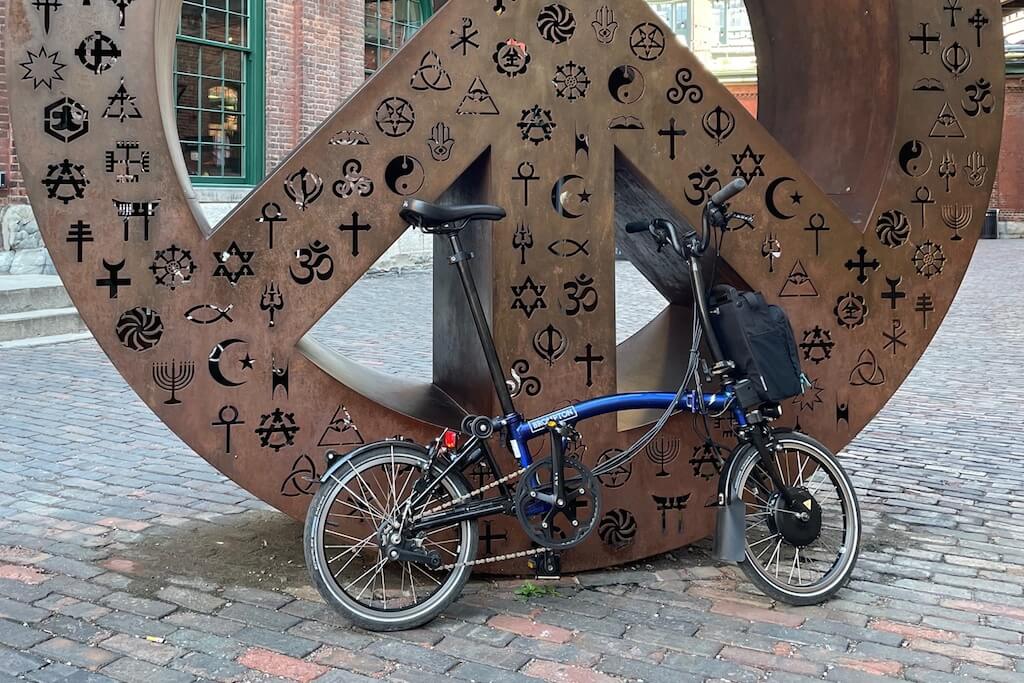 Brompton Electric C-Line hits Toronto
The Brompton Electric C-Line is a wonderfully peppy and fun folding bike ideally suited for commuters and travelers that will also have people out cycling much more often.
For the last two weeks, we've been pedaling about town, down subway stations, and over plenty of potholes to test out the usefulness of the Brompton Electric C-Line. And, we have some thoughts, most overwhelming positive, with a few notes of caution.
First, some background.
For Brompton's foray into e-bikes, it chose its classic C-line folding bike to rev up. And why not? The C-Line has an awesome steel frame with brass details that looks fantastic and is built to survive the punishment of urban riding.
The trick with folding bikes is that the small wheels sometimes make it difficult when negotiating an awful stretch of road. Opting for a steel frame lessens the impact to some degree, although it is a point of some debate.
Riding in a city like Toronto, for any who have not been, is challenging in terms of road conditions. There is never-ending construction and all those giant vehicles of "progress" bang up the roadways. There are potholes everywhere from minor divots to gaping maws that swallow bicycles tires whole. The city is also known for its streetcar tracks, which provide another tricky challenge for cyclists to overcome on the daily.
The good news is that the Brompton tires are wide enough to tackle the streetcar tracks without any issue. Potholes were indeed challenging but not much if any worse than a traditional bicycle. Those with a full-size roadie or fixie with skinny tires are likely far worse off.
With a folding bike such as a Brompton, there is a good degree of maneuverability that allows one to avoid most of the serious road issues.
Potentially, a larger issue regarding potholes is with the portable battery that can become dislodged from its input location severing the connection momentarily. We did go over plenty of bumps and with regular riding did not dislodge it, although it is possible. When that happens, simply snap the battery back in place, power on, and it should be fine.
The battery
That is one of the issues regarding the battery being portable, but there are benefits to the design as well, named it allows Brompton to continue to function as one of the most compact folding bikes on the market.
What's great about the compact size is that the Brompton can be taken onto the subway and commuter trains during rush hour without any hubbub. Indeed the London Underground uses the Brompton as a measuring stick for what is allowed and what is not allowed.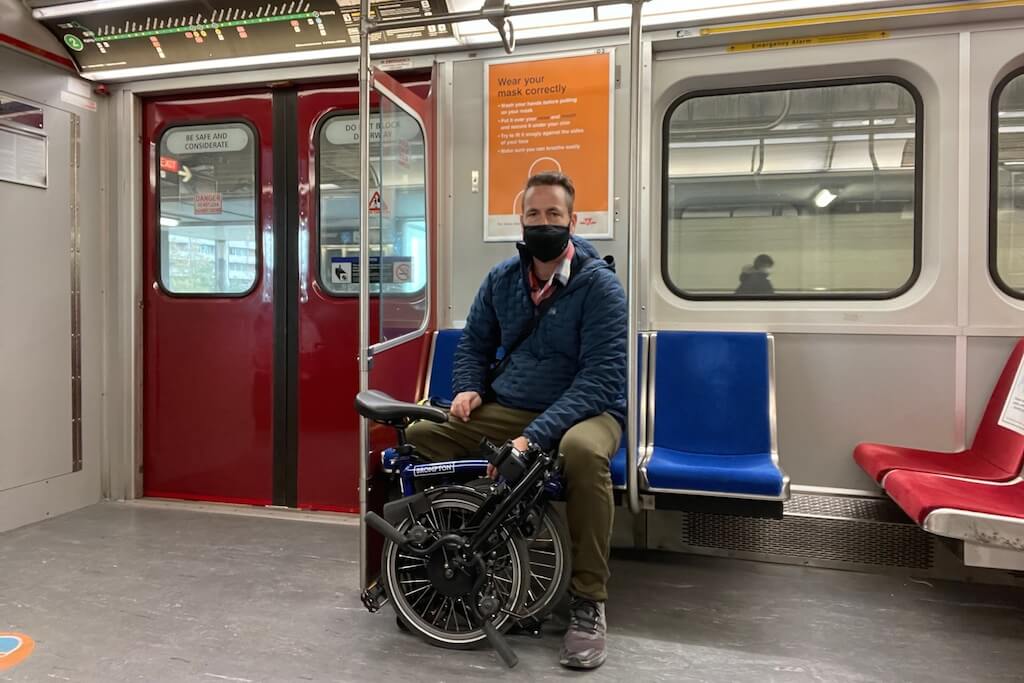 Toronto subway commute with the Brompton
We took the C-Line onto the subway in Toronto, at a station with plenty of ramps and stairs. It takes about 30 seconds to fold up the bike to its compact form, but for this option, the handlebars stay extended, which allows riders to roll the bike up the ramp to the station and onto the subway car. If needed for more room once on the car, one can easily fold down the handlebars in a couple of seconds.
When we did the test, it was late fall and winter was right around the corner. It did raise concerns regarding the size of the wheels and the possibilities for negotiating terrain during the snowy season.
The good news is that the vast majority of rolling would be indoors, but if there is any significant distance or variable conditions it might present a challenge. To that end, we were relieved to learn that larger wheels for rolling can be added for just $70 a pair.
Negotiating stairs while carrying the Brompton was without issue. It isn't light, at 38 lbs with the battery, which is removed and comes with a carrying strap. So, be sure to consider the weight if there is a significant amount of stairs in your future. Luckily, most subway stations focus on accessibility, which means elevators and ramps, a boon for Brompton riders.
The battery range is 40-80 km. It is also equipped with a built-in USB port to charge your device while cycling.
The motor
Often, those who haven't experienced the wonder of the folding bike question the speed. If one is commuting to and from work, or out on a weekend cruise, it won't do to be at the back of the pack struggling to keep up.
Well, rest easy, the Brompton's design makes it quite speedy. The small wheels are balanced by a different gear ratio than larger bicycles, which helps to overcome any issues. Smaller wheels allow the bicycle to pick up speed even faster.
In addition, the motor on the Electric C-Line is fantastic. There are three levels of assist on offer at 30/70 split where the rider provides 70 percent of the power to 30 percent motor assist, which is the first level, followed by a 50/50 split, and then at level three there is 70 percent assist. The maximum speed provided by the motor is 25 kph.
It was quite remarkable how fast it went, and how quickly it got up to speed. It was quite fun to tool around on.
Toronto has some steep although shorter hills and the C-Line whizzed up then without any difficulty.
There is also a six-speed gear ratio to provide even more options.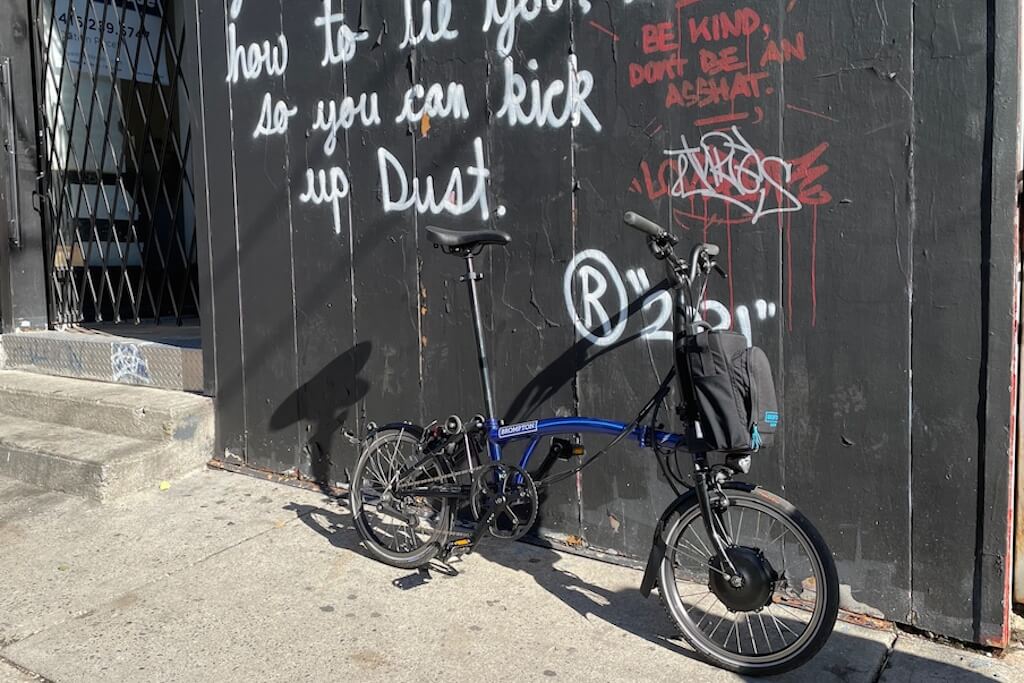 The Brompton Electric C-Line at home in urban areas
Customize it
One of the best features of a Brompton is the many ways in which it can be customized to suit the individual rider's needs.
For instance, at 6'2" our reviewer needed a telescopic seat post, which was ideal. There are also regular and extended seat post options for no charge.
In addition, there are a couple of choices of saddle, the aforementioned rolling wheel upgrade, bells, grips, color, rear rack, and more.
Overall impressions
Although this doesn't happen very often, we didn't want to send this one back.
As a tall person, some bicycles are more comfortable than others. The Brompton, although a foldie, provided quite a comfortable riding position, and even after hours of riding, there was no discomfort.
In addition, even at the lowest level of assist, it was cruise city. It was simple to get up to speed after stopping, and although we rarely used the highest level of assist, when we did it put a serious charge into the wheels and allowed us to ascend steep inclines with ease.
Although the Brompton Electric C-Line is expensive, it is finely engineered and handcrafted and will last a very long time. We guess that you will find yourself out cycling far more often than you ever had.
Highly recommended.
Thank you to Curbside Cycle in Toronto for the assistance.